There are three sections to this guide: To download the agent, To install the agent, and To configure the agent application permissions. Please complete all three sections.
To download the agent:
Open your web browser and navigate to https://www.gatenbyservices.co.uk/get-support.html
Download the Remote Management Tool - Mac
To install the agent:
When the download is complete, open the agent installer package from Finder. The setup assistant appears:

Note: If prompted with the message (below), do the following:

Right click the downloaded file > Select Open With > Installer

When the message appears again, select Open

Follow the setup assistant's prompts.
When the following window appears, enter the email address provided on your ticket in the username field. Leave everything else as is, and click Save.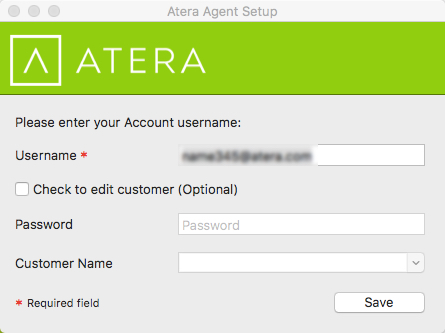 The remote agent will now install in the background (there won't be any visible progress at first).
To configure the agent application permissions:
For Mac agents, there are three additional accessibility settings required to enable remote access. When the agent has finished installing -
depending on your internet speed, this may take around 10-15 minutes -
you'll be presented with a screen that looks very similar to this:
Note: If the above Splashtop helper window does not appear within 20-30 minutes, please perform the following (if it has already appeared, you may skip the next three steps):
Navigate to your Applications folder and open Splashtop.

Click the Splashtop icon in the menu bar, select Preferences.

Click the information icon within the preferences:
Once you're presented with a window like the one above (showing Accessibility, Screen Recording and Full Disk Access) please proceed with the following:
Click Allow next to each of the three options (one at a time) and follow along. You should be brought to the Security and Privacy window:
Click the padlock on the bottom left-hand corner and enter your Mac's login credentials. This allows the system to make the required changes.
The previously greyed-out icons (on the right) should now light up. Scroll through this list until you see Splashtop Streamer and tick the checkbox.


Note: Depending on your Mac version, you may be asked to quit Splashtop during this process. If presented with the option, please click "later". Otherwise, please call IT Support and we can assist.

Repeat steps 1-3 for each setting: Accessibility, Screen Recording and Full Disk Access. When allowing the Full Disk Access setting, please tick both the Splashtop Streamer and Atera checkbox.
You're all set! Your Mac agent setup is now complete.